Taiwan Hotel
Century Hotel Taoyuan
Century Hotel Taoyuan
蜜月世紀大飯店
TWD 4,200+
Overview:
Century Hotel Taoyuan is nicely set in the heart of Taoyuan City. With convenient location, Taoyuan Train Station is only a 5-minute drive away, while Taoyuan International Airport is just 20 minutes' drive away for guests connect other destinations without trouble. In addition, Taoyuan Tourist Night Market is where guests may spend their night time to have fun and dining, which is perfectly located a 5-minute stroll away from the hotel.
Quad Room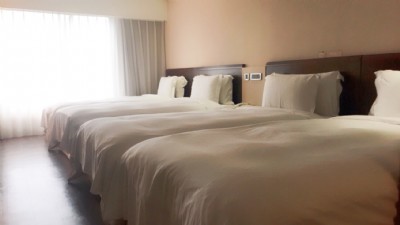 Room details:
for 4 guest(s)
4 Single bed(s) (106cm X 200cm),
Breakfast unavailable
Extra guest/additional bed is not available
Wooden Floor / TV / Satellite/Cable Channels / Separate Shower and Washlet / Shower / Toiletries / Hairdryer / In-room wireless internet access / Air conditioning / Bottled Water
Service Charge & Taxes included.