Taiwan Hotel
The Loft Seaside Suites
Overview:
Located in Wanli district of New Taipei City, The Loft Seaside Suite Taipei is set at the edge of the north coast adjacent to the East China Sea. With a strategically chosen location, this hotel is a nice spot to explore the north coast of Taiwan. Jinshan (5.2 km/12 mins drive) is well known for its scenic cape, beautiful beaches and appealing hot springs. In addition, the famous Jinshan Old Street, also known as Jinbaoli street, is only 1 km/15 minutes walk away where guests may find a lot of local produce and local delicacies while appreciating the historical characteristics and historical ambiance retained from Qing Dynasty when you roaming down the street. Moreover, the north coast possesses many surreal geological sights and curiosities, including Yeliou Geopark, Lionh's Head Mountain Scenic Area and Huanggnag Fishing Port are all within short ride for you to enjoy a blissful and unforgettable Taipei travel. As the north coast is one of the popular tourist destinations, there are several buses that bound for Jinshan area from Taipei, Banciao, Danshui and Keelung.
Ubud Suite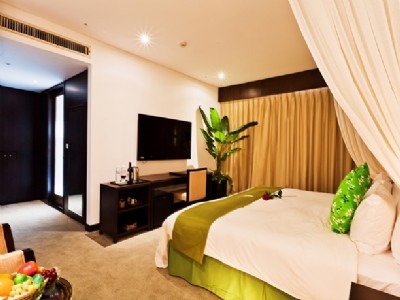 Room details:
for 2 guest(s)
2 Single bed(s) (180cm X 100cm),1 Double bed(s) (180cm X 200cm),
Room Size:33 sq.m (360 sq.ft)
Meal Service: Complimentary Breakfast for 2
TWD 1000 for additional guest with mattress pad. Charge to be paid upon check-in. Breakfast included. Toiletries & Beddings included.
Amenities: In-room wireless internet access / Toiletries / Carpet Floor / In-room wired internet access / Complimentary Bottled Water / In-room Safe / Cable TV Programs / Bathroom (with bathtub) / LCD TV / Hairdryer / Complimentary Daily Newspapers / In-room Bathtub with Hot Spring Water /
Other Facilities: Views available
Service Charge & Taxes included.