Taiwan Hotel
Taichung Charming City Hotel
Overview:
Taichung Charming City Hotel features modern accommodations in Beitun District of Taichung City, Taiwan. This elegant Taichung hotel is part of Charming City Hotels & Serviced Apt., providing both local and international travelers a delightful place to revitalize for their Taichung travel. The hotel's delightful location with Zhonggang Interchange and Daya Interchange nearby, allows guests to travel to other Taiwan destinations via Taiwan National Highway, offering easy access for both local and international travelers to conduct business in other Taiwan cities and discover other Taiwan beauties. Set a nice location, the hotel is also adjacent to many Taichung attractions include World Trade Center Taichung about 9.2km/28mins drive away, Feng Chia Night Market about 5.7km/20mins drive away, National Museum of Natural Science about 5.4km/19mins drive away, and Tianjing commercial area just about 2.4km/11mins drive.

ROOM ONLY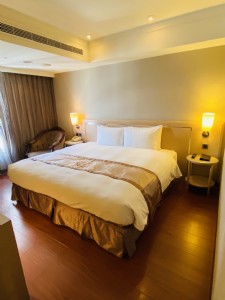 Room details:
1 Double bed(s)
Room Size:19 m²/204 ft²
Breakfast unavailable
Carpet Floor / TV / Satellite/Cable Channels / Shower / Bathtub / Toiletries / Hairdryer / In-room wireless internet access / Air conditioning / Refrigerator / Water Boiler / Bottled Water
Service Charge & Taxes included.