Taiwan Hotel
Orchard Park Hotel
※ The hotel is undergoing a maintenance from 11th Dec 2018, daily renovation take place from 9am to 6pm. The hotel is in normal operation.
Overview:
Located near Taoyuan International Airport, Hotel Orchard Park is an international tourist hotel opened in 2010. Its modern design with state of art facilities have attracted many tourists to stay. In order to ensure the safety for the guests, the hotel features a shock absorbing system which is able to offset an 8-point earthquake. Located in the Aerotropolis, the hotel enjoys a perfect location for both business and leisure travelers. It only takes a 10 minute ride to the Taoyuan International Airport, a 20 minute ride to the HSR Taoyuan Station, and a 15 minute ride to Taoyuan City. Downtown Taipei and Hsinchu are also reachable with a 45 minute ride. The nearby Taoyuan attractions include Cihu & Cihu Mausoleum, Daxi Old Street, Shihmen Reservoir and many others. With 200 well appointed guestrooms and suites, an excellent location near the airport, plus business and recreation facilities, this Taoyuan hotel is a great choice for the most astute business and leisure travelers!

Deluxe Twin Room With No Breakfast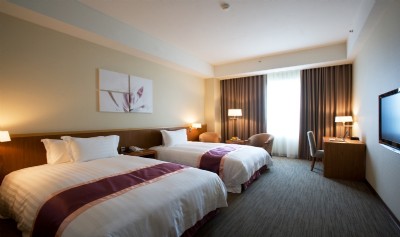 Room details:
for 2 guest(s)
2 Full Bed(s)
Meal Service: Breakfast unavailable
TWD 800 for additional guest sharing existing bed. Charge to be paid upon check-in.
Amenities: In-room wireless internet access / Toiletries / In-room wired internet access / Shower room (without bathtub) / Complimentary Bottled Water / In-room Safe / Cable TV Programs / Separate Shower and Washlet / LCD TV / Hairdryer /
Room with window
Service Charge & Taxes included.