Taiwan Hotel
Park City Hotel - Danshui Taipei
Overview:
Located in the vivid Danshui Town of Taipei County, Park City Hotel Danshui is a leisure hotel that serves comfortable accommodations, attentive services, and beautiful views. By sitting next to the Hongshulin MRT Station, the Hotel also enjoys the convenience in transportation around the town as well as the Taipei metro area. It is only one MRT station away from notable Danshui tourist spots, including Danshui Old Street, Fishermen's Wharf, and Fort Santo Domingo. You may also travel to other cities by taking Taipei MRT to Taipei Main Station, as well as various popular Taipei attractions such as Taipei 101, National Palace Museum, Shilin Night Market, and so on. The natural and picturesque views of Danshui River and Hongshulin (Mangrove) Nature Reserve assure all guests a joyful and unforgettable memory. With the theme of "The hotel where the little extras don't cost extra" Park City Hotel Danshui is of the best choices of Danshui Taipei hotels for your Taiwan travel.
Park Family Room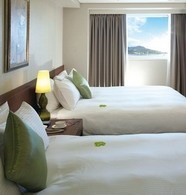 Room details:
Landscapes, literature, history, and nature all come alive under a beautiful night sky that is not dimmed by the city lights. A memorable holiday is guaranteed for friends and family alike.
Amenities
‧ Complimentary internet access
‧ Complimentary mineral water and snacks
‧ Hair dryer ‧ Slippers
‧ Newspaper delivery
‧ Flat screen LCD TV
‧ Cable TV channel
‧ IDD service
‧ Bathroom amenities
Park Standard Room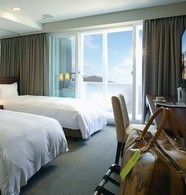 Room details:
With a simple, yet elegant, décor, combined with the breathtaking views, each room feels soothing to be in. We strive to provide an experience so comfortable and warm that you will feel like you are in your home away from home.
Amenities
‧ Complimentary internet access
‧ Complimentary mineral water and snacks
‧ Hair dryer ‧ Slippers
‧ Newspaper delivery
‧ Flat screen LCD TV
‧ Cable TV channel
‧ IDD service
‧ Bathroom amenities