Taiwan Hotel
Green World SongJiang
洛碁大飯店松江館
110 Reviews
TWD 2,200+
Overview:
As part of Green World Hotels, Green World SongJiang is conveniently set in the bustling Zhongshan District of Taipei City, Taiwan. The hotel is strategically towered about 950m/12mins walk away from Rongxing Park, 650m/9mins walk from Taipei Flora Expo sites such as Xinsheng Park area that includes Pavilion of Dreams, Pavilion of Future, Pavilion of Regimen, Pavilion of Angel Life and Palace of Flora Teas, 450m/6mins walk away from Xingtian Temple, and just about a three minute drive will allow you to get onto Zhongshan Highway (No.1 National Highway) for you to connect to other Taiwan destinations. Also, with MRT Xingtian Temple Station about 850m/10mins walk away, Shilin Night Market, Guanghua Market, Yuanshan Park, Zhongshan and Nanjing business areas, Beitou Hot Spring, National Palace Museum and many others may simply be accessed in short MRT rides. From the city's time-honored traditions and rich cultures to its busy business districts and exciting attractions, this Taiwan hotel is where you may experience the vibrant energy and breathtaking beauty of Taipei.
Superior Twin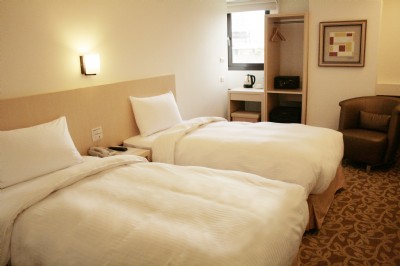 Room details:
for 2 guest(s)
2 Single bed(s) (105cm X 190cm),1 Double bed(s) (210cm X 190cm),
Adjoining Room unavailable
Room Size:19.8 sq.m (216 sq.ft)
Meal Service: Complimentary Breakfast for 2
Extra guest/additional bed is not available
Amenities: In-room wireless internet access / Toiletries / Carpet Floor / In-room wired internet access / Complimentary Bottled Water / In-room Safe / Cable TV Programs / Bathroom (with bathtub) / LCD TV / Hairdryer /
Room with window / City View
Service Charge & Taxes included.