Taiwan Hotel
Friends Hotel Yo Tong
Overview:
Superbly located on bustling Sec. 4 Zhongxiao E. Rd. in Taipei City, Taiwan, Friends Hotel Yo Tong is a nice Taipei accommodation for both business and leisure travelers. The hotel is close to a number of commercial and leisure stops such as Taipei East Shopping District, Breeze Center, and SOGO department stores. In addition, MRT Zhongxiao Dunhua Station is just 120 meters away from the hotel, where guests may take a short MRT ride to designated stops such as Taipei City Hall, Taipei World Trade Center (TWTC), Taipei 101, Hankyu Department Store and many others for a convenient Taipei travel. Othfer than an excellent location adjacent to MRT Zhongxiao Dunhua Station, Yo Tong Regency offers convenience in transportation to many transport links include an hour ride to the Taoyuan International Airport, and just a 10-15 minute ride will access you to the Taipei International (Songshan) Airport, Taipei Main Station and Taipei Bus Station. With an excellent location at heart of Taipei City, Yo Tong Regency is your gateway for your Taipei travel.
Deluxe Double Room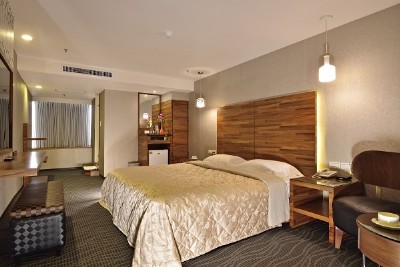 Room details:
1 Queen Bed; Sofa; Two orders of Deluxe Continental Breakfast; Airport transportation service (reservation required); Spacious; Complimentary ADSL Internet Access; Complimentary Tea Time; Tax and Service Charge Included; No pets are allowed.; No free shuttle buses in urban district during Chinese New year. Only toll buses are available.; No breakfast service during Chinese New year.; We apologized for the inconvenience to you.
Standard Double Room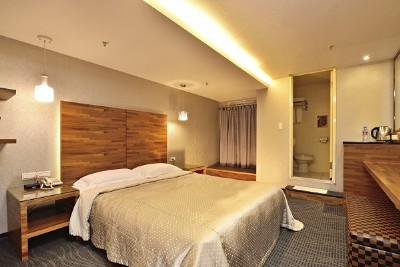 Room details:
1 Queen Bed;
Two orders of Deluxe Continental Breakfast;
Airport transportation service (reservation required);
Complimentary ADSL Internet Access; Complimentary Tea Time; Tax and Service Charge Included;
Maximum Occupancy is based on guest count during reservation.
Extra guest or rollaway services are not available.;
No pets are allowed.;
No free shuttle buses in urban district during Chinese New year. Only toll buses are available.; No breakfast service during Chinese New year.; We apologized for the inconvenience to you.;